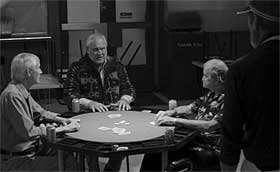 Official selection of Fantasia Film Festival, Dragon-Con, GeekFest and many more
Younglings is a multiple award-winning sci-fi comedy short about the destiny of fandom
In a not-too-distant future full of old men trapped in adolescence, Elroy's Deli houses a weekly poker night with one simple rule: all players must act their age and stick to grownup topics of conversation. Like golf. Or hyperinflation. But these old-timers know that Star Wars will become the topic du jour with the fanatical, Jedi-obsessed Roscoe at the table. Settling this conflict could mean a turn to the dark side.
Director Stuart Baker, writers Sam Rudolph and Jeff Beauvoir (contributor to the award-winning humor website Cracked.com), and a wizened ensemble cast deliver 21st century word jousting in the style of a classic Twilight Zone episode. Younglings portrays today's pop culture aficionados as geriatric nerds of the future. It is a grimly comic, sci-fi tale of friendship brought to crisis by nostalgia and zealotry. A true fanboy noir.
This 9-minute black and white epic was shot over a long weekend in Seattle by cinematographer Jeremy Mackie (While You Weren't Looking). The cast and crew were all volunteers. A team led by production designer Tiffany Bennett amazingly transformed a Sodo teriyaki shop into a technological-nightmare-future-noir deli in a matter of hours. Tiffany also created the tasty menu board items you see featured on this site ("Nutrient Noodle Filled Hen Composite"). It is all in service to the story's bleak-yet-silly aspirations: Blade Runner meets Blazing Saddles with a Shakespearian clash of personalities.

Technical Specs
Synopsis:
Blade Runner meets Blazing Saddles in a dark, sci-fi comedy about a poker night pop-culture smack down between geriatric nerds of the future.
Type:
Narrative Fiction, Short
Genres:
Comedy, Sci-Fi Fantasy, Neo-noir, Independent, Spoof
Country of Production:
U.S.A. (Seattle, WA)
Aspect Ratio:
16:9 (1.77:1)
Print Details:
B/W with color splashes
Production Company:
Hubrisfilm Limited